Greek island cruise and Ephesus, March 27-31, 2006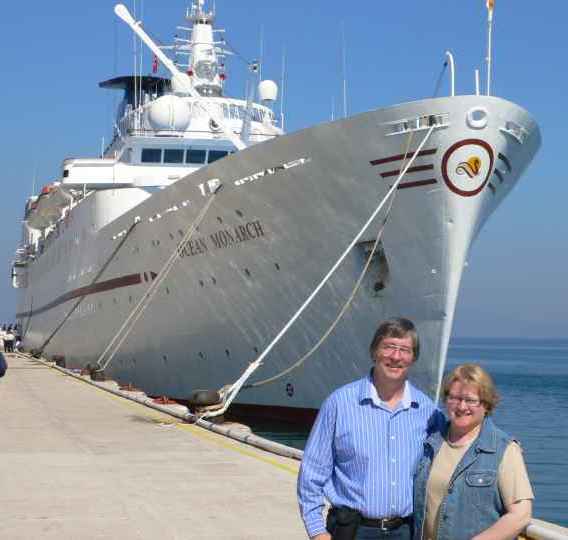 We finally boarded the cruise line on Monday morning.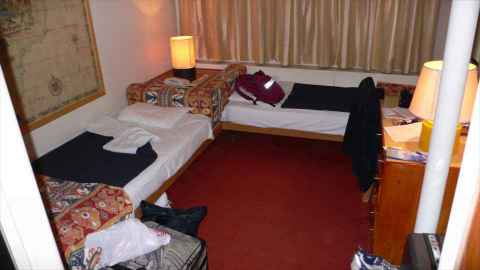 The cabins were small, but larger than the hotel room we had in Tokyo. The seas were pretty mild, so it didn't matter which direction we were facing while sleeping.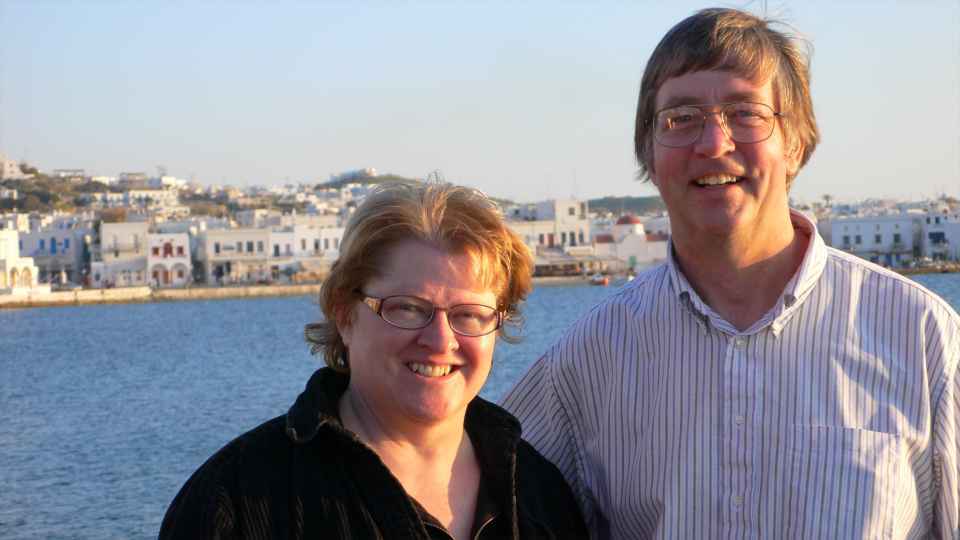 Our first stop was in Mykonos.

The next morning, we visited the site of ancient Ephesus in Turkey. This auditorium could seat around 10,000 people.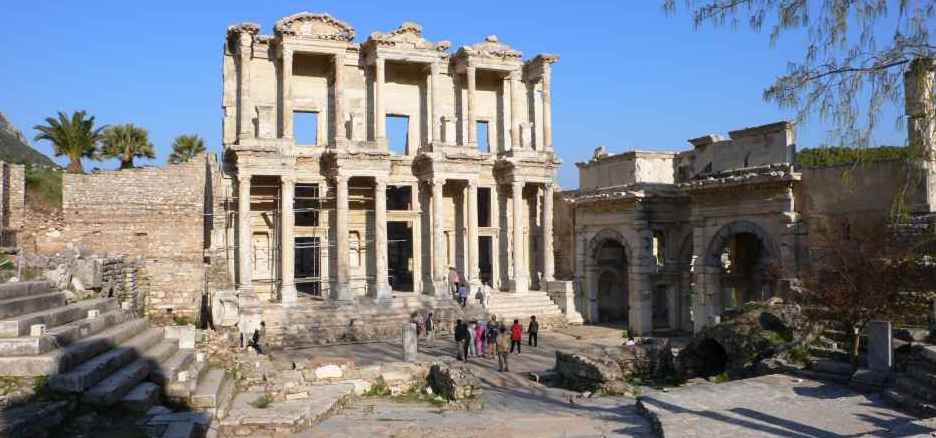 The main square in Ephesus.
After the Ephesus tour, we were obligated to spend about 30 minutes in this rug shop. The salespeople were pretty high pressure, but we were able to escape without buying a $1000 rug.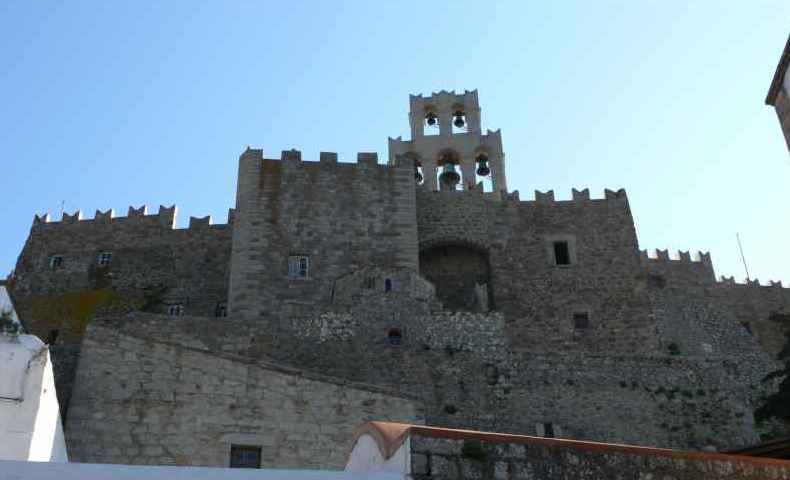 The second stop of the day was back in Greece, on the island of Patmos. We visited the Monastery of St. John and the legendary site where the book of Revelations was written.
The cruise ship entertainment director, Christina, hosted "Greek night". Carol again did her part by performing the "hota" dance. We sampled ouzo liquor and were able to sleep late, since we had no ports of call on eclipse day. Click on the image for a short video clip.
The last morning, we visited the island of Crete, where we were offered a tour of the country lifestyle. This village is about 20 km south of the main city of Heraklion.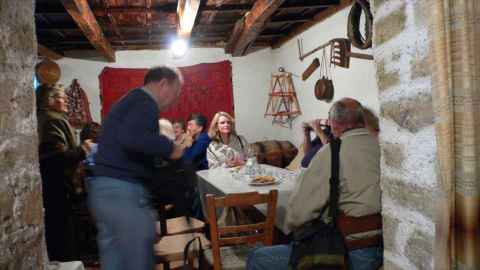 The homeowner here invited us in, where we ate traditional cookies and a shot of liqueur brewed in the area.
This artist makes different size bronze bells for the local goats; small bells for the young kids and larger bells for the heads of the herds.
The last tour of the vacation was the island of Santorini. This is the most scenic of the islands we visited, with many of the homes, churches, and stores perched high up on the slopes of the caldera's rim.
The town of Oia made a great backdrop for our last photo together.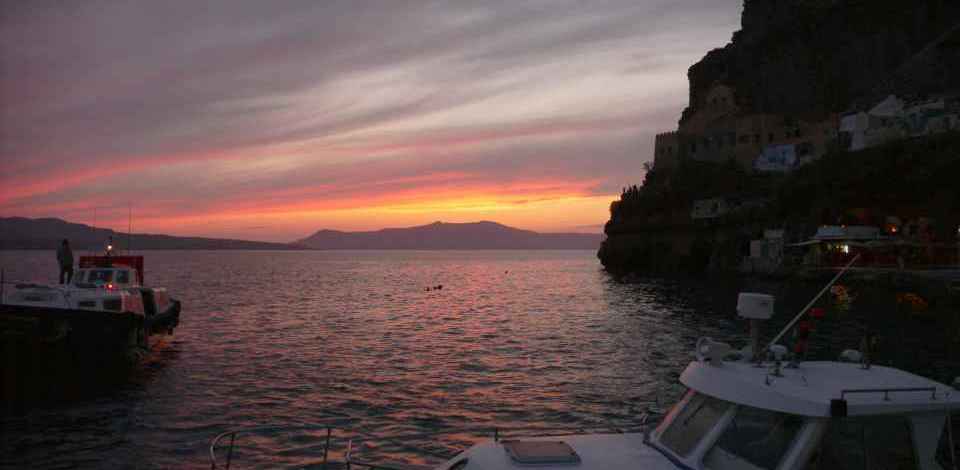 This final sunset in Greece made a fitting end to our solar eclipse vacation.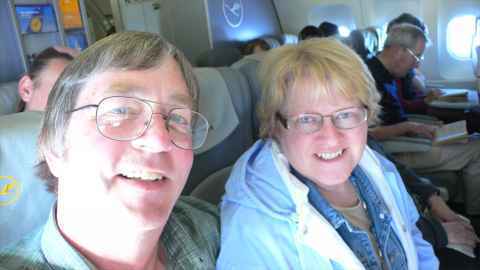 The entire tour was not without its organizational problems, primarily due to lack of communication between the tour staff and the ship's crew to the tour participants. Our final challenge was to get to the Athens airport, 45 minutes away from the pier, and then through the ticket counter, pass security, and down to the boarding gate, all in under 60 minutes! With a cooperative, speeding taxi driver and a helpful gate agent at Lufthansa, we did it!
Click here to go to the Eclipse page
Click here to go to the Athens-Delphi page
---
All text and images Copyright by Stellar Products, 2006. Any use by others without permission of Stellar Products is prohibited.
Links to other Stellar Products pages: